Advocacy in Action: Mutual Drug Meets With Rep. Foushee, Pharmacy Community About Industry Priorities
August 21, 2023
During the past few months, HDA member Mutual Drug has been actively involved in advocacy and supply chain partner discussions to underscore the value of pharmaceutical distributors and to provide perspective on policy issues affecting the supply chain.
On August 4, the company hosted Representative Valerie Foushee (D-N.C.-04) at its headquarters in Durham,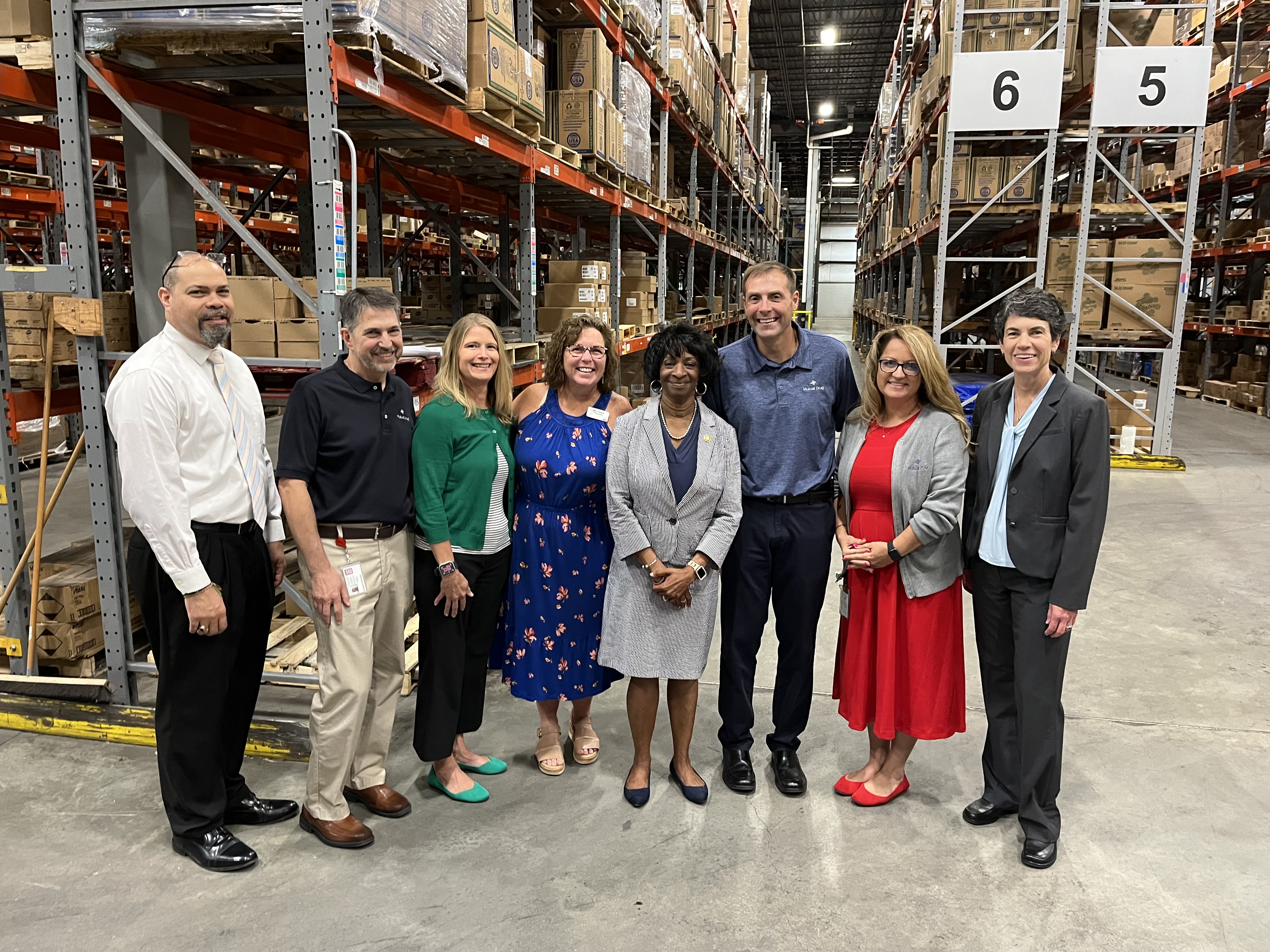 N.C. The congresswoman was interested in visiting Mutual Drug's facilities after meeting with the company's Co-CEO and COO and HDA Executive Committee member, Clint Syvinski during HDA's spring Hill Day. Pharmacy owners from Rep. Foushee's district joined the tour to lend their industry's perspectives on a variety of legislative and supply chain concerns.
Mutual Drug also held a mid-July summit in Durham focused on state and federal legislative issues impacting independent pharmacies.
Underscoring the Critical Role of Distributors in the Supply Chain
As a full-line wholesaler with over 70 years of experience servicing independent pharmacies, Mutual Drug showcased to Rep. Foushee the unique expertise and value provided by healthcare distributors in the supply chain.
"We discussed the critical nature of wholesalers — the inefficiency, cost and supply disruptions that would come into play if each pharmacy had to order, pay and receive from [hundreds of] different vendors," said Syvinski.
While it is important to meet policymakers where they are and engage on Capitol Hill, Syvinski noted that Rep. Foushee appreciated the opportunity to experience in person what was discussed during their Hill Day meeting.
Addressing Healthcare Supply Chain Concerns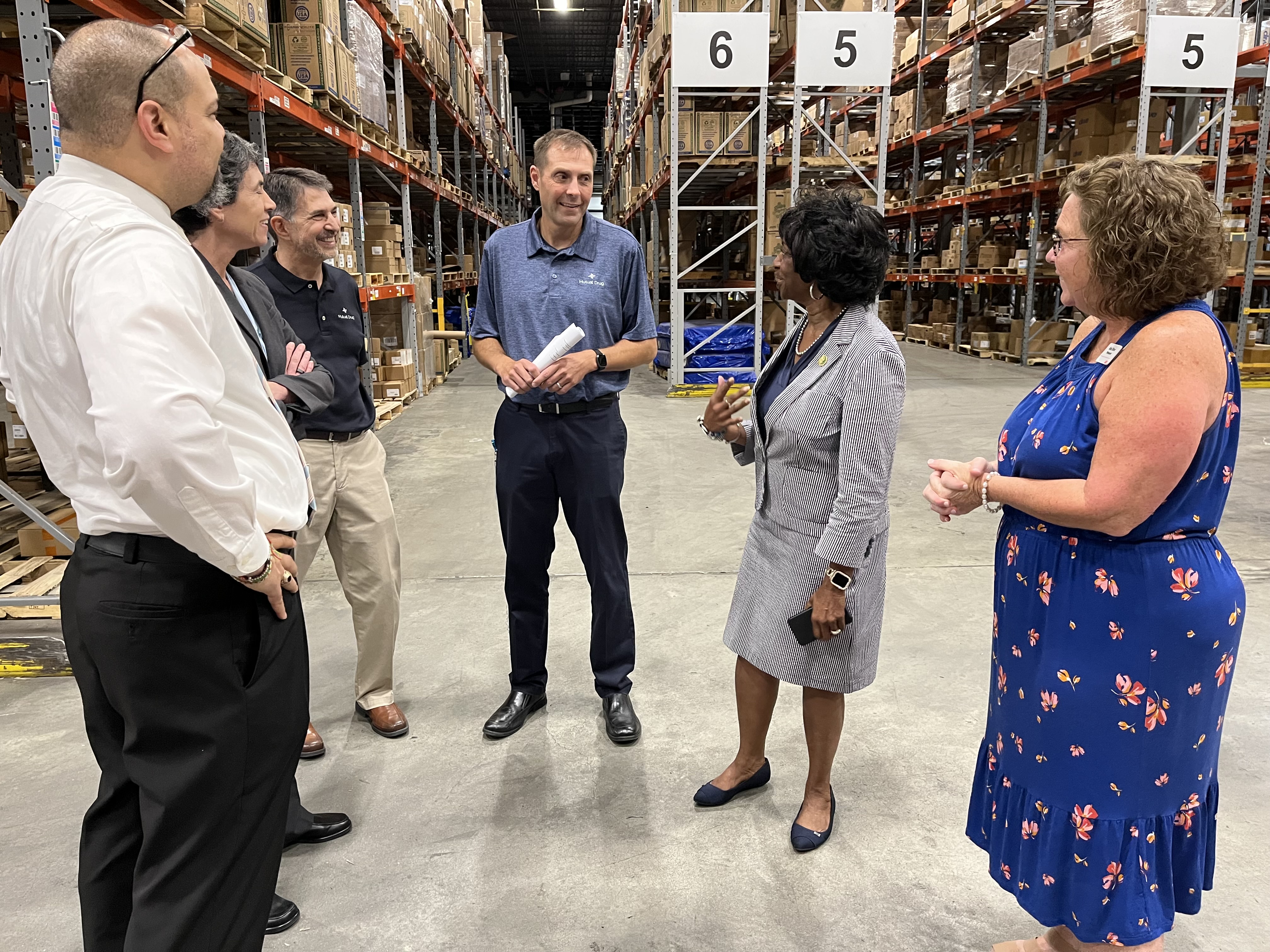 In addition to discussing the important role of distributors, the Mutual Drug team's discussions with Rep. Foushee covered policy issues impacting the supply chain. Notably, the upcoming Drug Supply Chain Security Act (DSCSA) deadline was raised as a topic of concern. As Syvinski reflected, "We had a good discussion [with the Congresswoman] on DSCSA and the potential impact on the supply chain and independent pharmacies — both from being ready to get data as well as having staff to scan the items."
Rep. Foushee also asked "directly about [Pharmacy Benefit Managers] PBMs and the impact on community pharmacy" and received input from the pharmacists participating in the tour about how PBMs affect their individual pharmacies.
Engaging the Pharmacy Community
Before Congresswoman Foushee's visit, Mutual Drug hosted a four-state summit on July 17 and 18 to discuss state and federal legislative issues impacting independent pharmacies and opportunities to bring the supply chain together to address and build awareness around these issues. The meeting convened representatives from HDA (including Patrick Kelly, Executive Vice President, Government Affairs, and Leah Lindahl, Vice President, State Government Affairs), the University of North Carolina Eshelman School of Pharmacy, North Carolina Association of Pharmacists, Virginia Pharmacist Association, South Carolina Pharmacy Association and West Virginia Independent Pharmacy Association.
Continuing the Conversation
With regulations like DSCSA and the Pandemic and All-Hazards Preparedness Act (PAHPA) coming to the fore, and a continuously moving policy landscape, visibility of the healthcare distribution sector's role and value is vital. Syvinski remarked, "We are looking forward to continuing [to be] active in the legislative [process] both federally and at the state level!"
HDA members who are interested in hosting governmental staff at their facilities can contact Abigail Kizer, Associate Director, HDA PAC and Grassroots, for support and information on scheduling a tour or meeting.
HDA has created federal and state advocacy toolkits, which provide the resources and best practices for members to become successful advocates on behalf of their companies and the distribution industry.