Healthcare Distributors: Health Delivered
Distributors are united in a common purpose of delivering medicines, vaccines and healthcare products — and ultimately health — to communities all across America.
Distributors Are The Vital Link® in Healthcare
330,000 Sites of Care

Distributors connect 330,000 healthcare providers, pharmacies and other sites of care to nearly 1,500 pharmaceutical manufacturers

$63 Billion in Savings

By streamlining the supply chain, distributors save the healthcare system up to $63 billion each year.

10 Million Medicines

Healthcare distributors deliver 10 million medicines, vaccines and healthcare products safely, efficiently and reliably every day.
We Are Health Delivered
Our members harness the power of a diverse and innovative workforce to ensure the health and vitality of the communities we serve.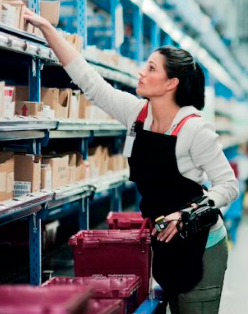 We Move Medicines and Healthcare Products
Providers — and ultimately patients — depend on healthcare distributors for on-time access to safe and secure delivery of medicines, vaccines and healthcare products. These essential and lifesaving products range from common vaccinations and over-the-counter medications to complex cold chain drugs that require constant temperature monitoring.
We Support Pharmacies and Providers
Distributors support approximately 20,000 independent pharmacies across the country, providing logistics expertise, administrative services, and support that allows pharmacists and providers to focus on their patients.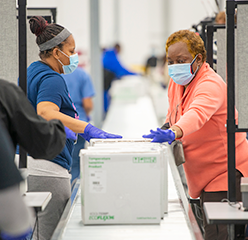 We Are United in a Common Purpose
Behind each HDA distributor member company are passionate, committed, innovative and hard-working people. Our collective strength comes from bringing together different backgrounds, perspectives, experiences and communities. As an industry we are committed to advancing diversity, equity and inclusion.
Showcasing Industry Experts: Faces of the Supply Chain
Faces of the Supply Chain is a video series featuring HDA member company employees speaking about the work they do every day to deliver 10 million lifesaving treatments and cures to support healthcare providers and their patients across the country. By amplifying our member voices, HDA is bringing to life the people behind the scenes who make the healthcare supply chain work.
Leaning In To Help Across the Whole Supply Chain
Constant Innovators

Advances in medicine lead to increasingly complex data management, safety and transportation requirements — distributors are continuously innovating to help upstream and downstream partners navigate these trends.

Information Management Specialists

As efficiency experts, distributors use advanced tools and technologies to manage their networks to ensure a safe, functioning and reliable supply chain.

Logistics Experts

Millions of pharmaceutical, medical and surgical supplies are delivered to sites of care daily

—

all managed through extensive relationships with global and domestic manufacturers.
HDA Career Center
Explore and share rewarding opportunities across the purpose-driven pharmaceutical distribution industry through HDA's new Career Center.
Join A Network To Leverage the Strengths of an Industry
Together, we are creating a safe, efficient and secure supply chain for all Americans — become a part of it.
For more information, contact Lisa Kanfer, Vice President, Membership and Development.