Debating the Key Issues Shaping the Future of Healthcare
June 29, 2023
HDA partnered with The Hill on the publication's recent "Future of Health Care Summit." The event brought together leading healthcare experts to discuss the most critical issues shaping an evolving healthcare landscape, including advancements in patient access to care, the pursuit of health equity and the importance of resetting the care delivery model across the United States. HDA, as a leader in the healthcare industry served as a sponsor and participant in the event.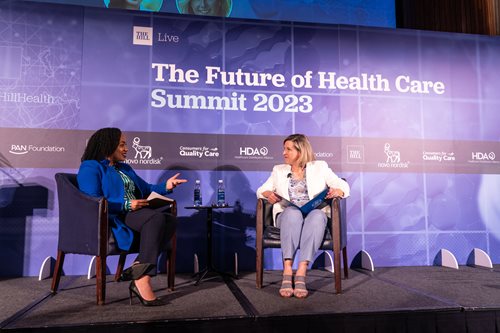 HDA's Dr. Nicolette Louissaint, Senior Vice President of Policy & Strategic Planning, and Sarah Wells Kocsis, Director of the Milken Institute's Center for Public Health. Photo courtesy of Ralph Alswang
Moderated by The Hill's Bob Cusack and Julia Manchester, the summit featured a conversation between HDA's Dr. Nicolette Louissaint, Senior Vice President of Policy & Strategic Planning, and Sarah Wells Kocsis, Director of the Milken Institute's Center for Public Health.1 Below are key takeaways from the summit.
Building Healthier Communities
Throughout the event, participants reinforced the need to enhance the available tools required to fight health disparities and ensure access to the highest quality care for vulnerable Americans.
Dr. Anthony Fauci, former Director of the National Institute of Allergy and Infectious Diseases (NIAID), expressed his hope for a society with a uniform health system that provides "equal access to healthcare for everyone and everybody." Former U.S. Surgeon General Dr. Jerome Adams echoed Dr. Fauci's sentiments on health equity issues and its broader impact on the future of healthcare, remarking, "[Our country] can no longer be successful as an economic entity if we don't pay attention to health."
Future Applications of Lessons Drawn From the COVID-19 Pandemic
Given the cessation of the COVID-19 public health emergency on May 11, participants weighed in on the importance of leveraging knowledge obtained throughout the pandemic response to inform future national preparedness for public health emergencies, natural disasters and other potential crises.
Dawn O'Connell, Assistant Secretary for Preparedness & Response (ASPR), U.S. Department of Health and Human Services, advocated for the government to better equip federal agencies to operate independently during public health emergencies. Thinking ahead to the next large-scale public health event, O'Connell reiterated, "We're living in an era of poly-crisis. I can't always have Federal Emergency Management Agency (FEMA) available — they're going to be out doing wildfires and other weather events…I'm going to need to be able to do the health things."
Further emphasizing the need to apply information obtained from the pandemic, Dr. Nicolette Louissaint shared, "For me, it feels like the start of a conversation. I hope that as we settle into whatever this post-COVID world looks like, we can actually take those learnings and think about how they help us to be better for the next phase."
Enhancing Public Health Infrastructure
While explaining the importance of ensuring supply chain resiliency during public health crises, Dr. Louissaint highlighted distributors' role in delivering lifesaving medicines, vaccines and medical products throughout the COVID-19 response and beyond.
Looking ahead to future crises, she spoke to the importance of reauthorizing the Pandemic and All-Hazards Preparedness Act (PAHPA) to enhance the country's public health infrastructure. She posed an important question to the group, asking, "How do we really stay focused on the elements of supply chain resilience that need to be in this [PAHPA] legislation to make sure that we are not putting ourselves at a deficit for the next thing that's coming?"
Strengthening Public Health Surveillance
Ultimately, both Dr. Louissaint and Dr. Ezekiel Emanuel, Vice Provost for Global Initiatives at the University of Pennsylvania, addressed current strains on the supply chain, particularly given ongoing drug shortages for certain drug classes.
Dr. Emanuel remarked that the U.S. has followed a pattern of "crisis, then respond to the crisis, and then forget it" instead of creating an enhanced health infrastructure and monitoring systems in preparation for future supply and demand surges.
Dr. Louissaint also emphasized public health surveillance as a key opportunity to alleviate future drug shortages. She reiterated that for healthcare distributors, "it's not just about who can get the most product, but who needs product and how do we make sure that those shortages are not creating negative health outcomes."
The full event recording can be found here. For additional HDA materials and resources, visit www.hda.org/preparedness-and-response.
------------------------------------------
1 Through a recent collaboration with the Milken Institute, HDA, along with diverse thought leaders and experts representing a range of academia, public health and community organizations, provided expertise to inform their report: "Envisioning the Future of the Pharmaceutical Supply Chain to Advance Public Health in the United States."