Celebrate Diversity Month: Promoting DEI in Healthcare Distribution
April 14, 2023
April marks Celebrate Diversity Month, which recognizes and appreciates the diversity of our populations, and how varying identities can be assets for stronger communities. In honor of this observance, HDA is recapping and amplifying the activities of its members related to diversity, equity and inclusion, and within the association itself.
HDA and our members are committed to continuing to celebrate the contributions of Black and African Americans throughout history and across the country. Though Black History Month marked a vital and designated occasion, our members and association work year-round to promote an industry culture that welcomes and celebrates the contributions of individuals from these communities and others as we strengthen the sense of belonging across the distribution sector. This blog summarizes some of the ways our sector has acknowledged Black and African American history, in February 2023 and beyond.

HDA DMC Session: "Introducing Diversity, Equity and Inclusion into Your Workplace"
During HDA's recent Distribution Management Conference (DMC) and Expo, Kelly Copes-Anderson, Global Head of Diversity, Equity and Inclusion at Lilly USA (pictured center) moderated an informative discussion with Jesse Cortez, Vice President, Diversity, Equity and Inclusion, McKesson (pictured left), and Devray Kirkland, Chief Diversity, Equity and Inclusion Officer, Cardinal Health (pictured right), that provided practical insights and advice for building and enhancing organization-wide DEI initiatives.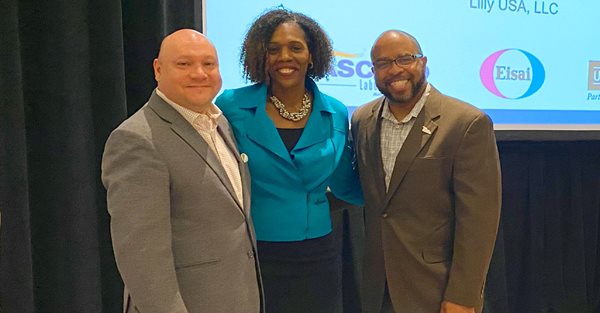 When discussing the business case for DEI programs, Kirkland remarked on the importance of including diverse individuals and diversity of thought within the sector because healthcare is used by everyone in every community. He also discussed how a diverse culture fosters creativity and innovation within organizations.
Copes-Anderson underscored that "DEI is a journey, not a destination," when talking about some of the successes and challenges experienced during implementation of these programs. She also offered the advice of, "as you look to make a change, look how to sustain the change you're trying to make. The more you can affect systems and processes with the change…this allows for sustainability."
The group agreed and remarked on the importance of flexibility, especially when determining what components of DEI programs are appropriate for each company and at what stage of the implementation process.
While reflecting on the most difficult elements of implementing effective DEI initiatives, Cortez talked about the importance of pacing and timing programs correctly, specific to each organization. He shared that it is important to "know you're dropping the pebbles in the right places to get the right ripple effect." Strategically selecting DEI program components as well as choosing those that are self-reinforcing and mutually reinforcing helps embed these cultural changes for the long-term.
The increasing number of female healthcare supply chain professionals contributes immense value and expertise to the healthcare system. In the spirit of Women's History Month in March, HDA explored some of the ways distributors and the association are working to recognize the achievements of our female colleagues and foster a culture of gender parity.

Learn more about HDA and our members' DEI initiatives on our website.


Henry Schein celebrates the diverse heritage of Team Schein members by displaying flags in their distribution facility.