News
HDA Research Foundation Recognizes Former Cardinal Health CEO Mike Kaufmann with Nexus Award for Lifetime Achievement
June 13, 2023
The HDA Research Foundation honored Mike Kaufmann, former CEO of Cardinal Health, with the 2023 Nexus Award for Lifetime Achievement. The Nexus Award, the healthcare distribution industry's highest individual achievement, was presented last night at the Healthcare Distribution Alliance's Business and Leadership Conference in Colorado Springs.
Founded in 1956, the Nexus Award recognizes one industry executive's exceptional character, accomplishments, and leadership in the healthcare distribution industry, HDA and their community. Award recipients are selected and voted upon by the HDA Executive Committee and Board of Directors, the HDA Research Foundation Board of Directors, as well as former Nexus winners who remain active within the sector.
"Throughout the course of his nearly 40-year career, Mike Kaufmann has not only been a champion for the role of distribution, but also for a more diverse and inclusive sector," said HDA President and CEO Chester "Chip" Davis, Jr. "The HDA Research Foundation is proud to recognize his many successes — achieved through a combination of creativity, tenacity and humility — as we honor him with the 2023 Nexus Award for Lifetime Achievement."
Following a tenure at Arthur Andersen, Mr. Kaufmann served 32 years at Cardinal Health, starting as a controller at the company's Zanesville Distribution Center. Over the first half of his career at Cardinal Health, Mr. Kaufmann held a range of positions related to the company's repackaging, retail sales and marketing and procurement functions, as well as Chief Financial Officer and Group President of Cardinal Health Healthcare Supply Chain Services.
In 2008, Mr. Kaufmann became Chief Executive Officer of the company's Pharmaceutical Segment, a position he held until he was named Chief Financial Officer in 2014. Assuming the role of Chief Executive Officer in 2018, Mr. Kaufmann led Cardinal Health to reach record revenues, drove improvements in its portfolio and cost structure, and managed the company and its supply chain through the unique challenges of the COVID-19 public health crisis.
Additionally, as a longtime champion for diversity, equity and inclusion (DEI), Mr. Kaufmann left a lasting impact on the culture of Cardinal Health by embedding the company's DEI initiatives within the fabric of the enterprise. He remains an active advocate and speaker on leadership and DEI-related issues.
"Mike was a great leader and mentor during his long career at Cardinal Health. He led us through several significant industry changes and was a pioneer in cultivating an inclusive culture," said Debbie Weitzman, Cardinal Health CEO, Pharmaceutical Segment, Cardinal Health, and HDA Executive Committee member. "I'd like to congratulate Mike on this well-deserved honor on behalf of all his former colleagues at Cardinal Health."
Mr. Kaufmann served six years as a member of the HDA Board of Directors and Executive Committee, providing input into the strategic direction of the association. He also was a member of the National Association of Chain Drug Stores board of directors. He currently serves on the board of directors at MSC Industrial Supply, SAFE Health Systems, Prescribe FIT and Ember Life Sciences, as well as sits on the advisory boards of HealthQuest Capital and Celonis.
Over the years, Mr. Kaufmann has been recognized with numerous awards. Among those, he was honored by Columbus Business First as a "Most Admired C-Suite Executive" (2020–2022) and "Power 100" executive and received that publication's Corporate Citizenship Award (2020–2021). Further, he was named Columbus CEO's 2021 CEO of the Year, recognized for "CEO Excellence in Gender Equity and Diversity" by the Women's Business Collaborative, and named a "Guy Who Gets It" by the Institute for Women's Leadership. He was inducted into the Bellwether League Foundation Class of 2021.
Mr. Kaufmann graduated from Ohio Northern University, where he later served as a trustee and executive committee member.
The 2023 Nexus Award for Lifetime Achievement was made possible through the support of Johnson & Johnson Health Care Systems and Viatris. For more information, including a list of previous honorees, visit the HDA Research Foundation website.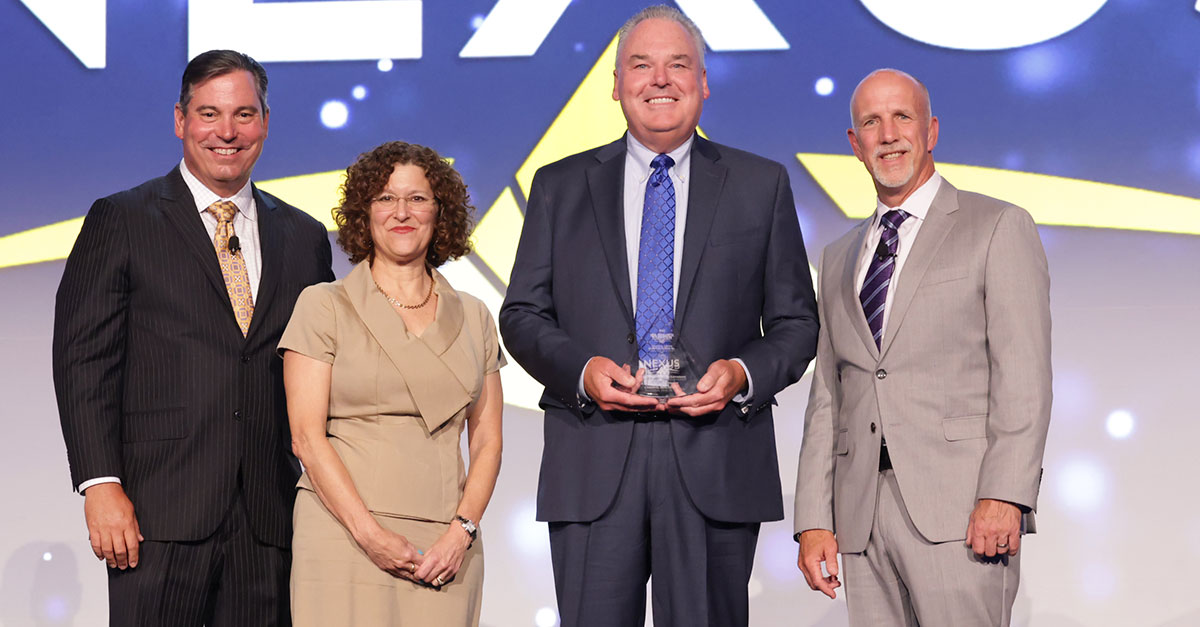 Pictured left to right: HDA President and CEO Chip Davis; HDA Executive Committee member Debbie Weitzman; Mike Kaufmann, former CEO of Cardinal Health; and Perry Fri, Executive Vice President, Industry Relations, Membership & Education and COO, HDA Research Foundation
ABOUT THE HEALTHCARE DISTRIBUTION ALLIANCE
The Healthcare Distribution Alliance (HDA) represents primary pharmaceutical distributors — the vital link between the nation's pharmaceutical manufacturers and pharmacies, hospitals, long-term care facilities, clinics and others nationwide. Since 1876, HDA has helped members navigate regulations and innovations to get the right medicines to the right patients at the right time, safely and efficiently. The HDA Research Foundation, HDA's nonprofit charitable foundation, serves the healthcare industry by providing research and education focused on priority healthcare supply chain issues.
ABOUT THE HDA RESEARCH FOUNDATION
The HDA Research Foundation is the 501(c)(3) non-profit charitable organization of the Healthcare Distribution Alliance (HDA). The Foundation serves as the thought leader in driving research, education and discussion for all healthcare supply chain stakeholders, enabling the industry's ability to deliver efficient, safe and secure patient access to medicines and medical products. Learn more at
HDA.org/Foundation
.