News
HDA Honors Rx Supply Chain Leader David Janca with DMA for Industry Leadership
March 13, 2023
The Healthcare Distribution Alliance (HDA) honored pharmaceutical supply chain leader David Janca of Aviano Ventures and VineMeds, LLC with its Distribution Management Award (DMA) for Industry Leadership. The award was presented in conjunction with the 2023 Distribution Management Conference and Expo in Indianapolis.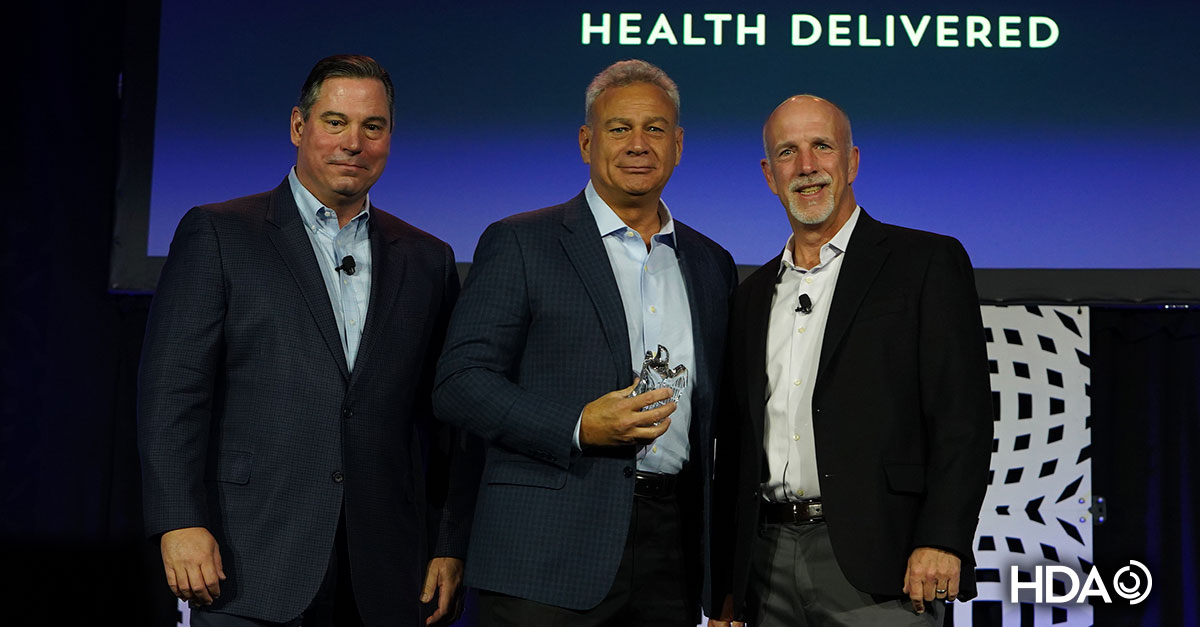 Presented annually since 2000, the DMA for Industry Leadership recognizes an individual for their extraordinary contributions to the pharmaceutical distribution sector. Honorees go above and beyond to develop and elevate trading partner relationships while enhancing the knowledge base of the industry. Further, individuals actively participate within their company as well as HDA to advance industry relations and the state of the sector. Winners are selected by the HDA-member distributor and manufacturer executives of the association's Industry Relations Council.
"Over the course of his more than 35-year career, Dave Janca has helped to create enduring pharmaceutical supply chain technologies and solutions that are now the industry standard in the areas of replenishment, data management and analytics," said Perry Fri, Executive Vice President of Industry Relations, Membership and Education, HDA; and COO of the HDA Research Foundation. "HDA is pleased to recognize Dave, whose innovative mind and integrity have greatly enhanced the safety and efficiency of the pharmaceutical supply chain for the benefit of the patient."
Mr. Janca began his career with a decade-long tenure as Vice President of Purchasing for Cardinal Health. He then co-founded and served as CEO of Supply Chain Solutions, an enterprise replenishment technology company; there, he helped develop the SCORE product, a replenishment solution that helped enhance trading partner relationships as well as supply chain efficiencies.
Following Supply Chain Solutions, Mr. Janca founded ValueCentric, LLC (now part of IQVIA), and as its CEO built the company into a leader in pharmaceutical channel data management, analytics and reporting solutions. The company's ValueTrak software, the first SaaS platform for the pharmaceutical industry, is used by numerous manufacturers, distributors, pharmacies and other stakeholders for channel and specialty data management and analytics. Mr. Janca now leads VineMeds, LLC, a technology company that uses serialized data to optimize pharmaceutical product capacity. Further, he helps pharmaceutical supply chain stakeholders collaborate and seek value through partnerships, data and technologies through his family's investment company, Aviano Ventures.
Mr. Janca has participated in HDA activities and initiatives over his career. During his tenure at ValueCentric, the company was a regular participant at the Distribution Management Conference and Expo and Business and Leadership Conference. He has also lent his expertise to inform HDA work to help supply chain partners comply with the Drug Supply Chain Security Act — and is a frequent speaker at industry conferences. After raising his family in Western New York, Mr. Janca now resides in Naples, Florida, and gives back to those communities through work with various charitable organizations.
For more information on the DMA for Industry Leadership, including past winners, visit HDA.org.
About HDA
The Healthcare Distribution Alliance (HDA) represents primary pharmaceutical distributors — the vital link between the nation's pharmaceutical manufacturers and pharmacies, hospitals, long-term care facilities, clinics and others nationwide. Since 1876, HDA has helped members navigate regulations and innovations to get the right medicines to the right patients at the right time, safely and efficiently. The HDA Research Foundation, HDA's nonprofit charitable foundation, serves the healthcare industry by providing research and education focused on priority healthcare supply chain issues.