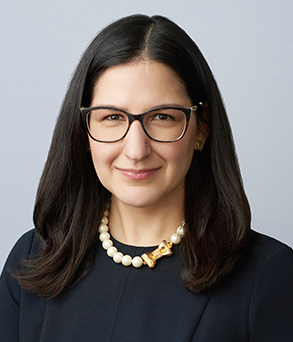 Farah M. Simonett
Vice President, Communications and Marketing
Email: fsimonett@hda.org
Farah Simonett is a communications, marketing and creative services professional with more than 15 years of progressive experience in not-for-profit healthcare and membership organizations.

As the Healthcare Distribution Alliance's (HDA) Vice President of Communications and Marketing, Farah serves as primary content strategist, executive speechwriter, media spokesperson and editor-in-chief for the national association representing healthcare distributors. HDA members are the vital link between 1,400 manufacturers and nearly 330,000 providers, delivering more than 11 million medicines and healthcare products safely and reliably each day.

Since joining HDA in 2008, Farah has led numerous communications and marketing programs across the association, including the rebranding of HDA, the launch of the organization's award-winning Health Delivered campaign and Allied Against Opioid Abuse initiative. She is a trusted advisor with the proven ability to lead teams under pressure, on deadline and through crisis.

Farah is passionate about communicating to audiences across a range of mediums.Most recently, she has directed efforts to spotlight the distribution industry's value proposition through enhanced storytelling and member engagement. Over the past few years, she has covered HDA members' response to the COVID-19 crisis as well as launched the association's Faces of the Supply Chain video series. Further, she created (and now spearheads) HDA's internal communications program.

Farah's first exposure to the healthcare industry was through working in HIV/AIDS-related clinical trials at Georgetown University Medical Center in Washington, D.C. She graduated from The College and William and Mary in Virginia.